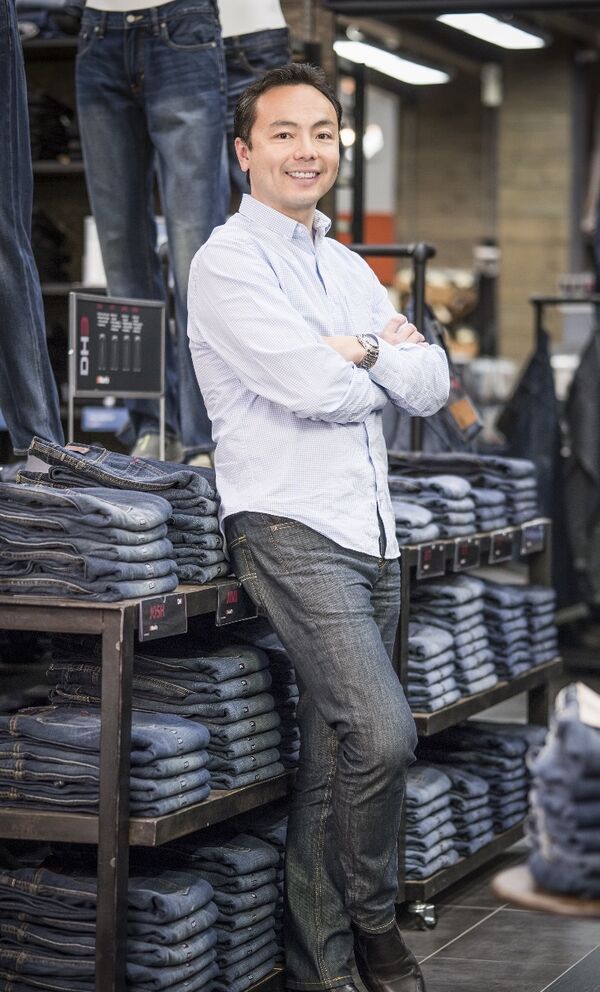 Over the past 37 years, Mark's has become an iconic Canadian retail brand that's focuses on providing apparel for everyday life in Canada. Mark's offers comfortable quality apparel for Canadians that will give you the confidence to look and feel your best. Mark's has built a very successful brand around high-quality and durable workwear, but in 2013 they identified an opportunity for growth by moving into quality casualwear for men. The rebrand is part of Mark's identity shift; they've revamped the in-store experience and brought in national brands like Columbia and Levi's to complement their portfolio of private brands, such as Denver Hayes and Dakota. This ability to respond quickly to shifts in consumer preferences is part of what makes Mark's a household name in Canada.

David Lui, Vice President of Marketing at Mark's, leads an innovative and passionate marketing team dedicated to brand development, e-commerce, digital marketing, and all new marketing frontiers for the brand. David and his team are leading the evolution of the Mark's brand in Canada.

Q&A with David:

What makes an innovative culture? How do you create a culture of innovation?
Looking at Mark's 37 years of operation it's really a company founded on entrepreneurialism, innovation is embedded in our culture. For us, employee engagement is paramount and we've created a culture that offers all Mark's employees the latitude to test new ideas. Test and learn, be agile, move-quickly; that's the kind of culture we have at Mark's.

Do you have specific rituals for re-setting your team to be creative? How does your team generate new ideas?
One thing we utilize here at Mark's is sort of a mini creative think-tank; twice a week our team gets together and shares the work we have ongoing, we look at the competitive landscape both within and beyond our industry, and really just share ideas and trends. We try to always look at ourselves and our work critically, but these creative think-tanks allow for more open, ongoing communication and sharing of ideas.

How do you identify trends? What resources does your team use to spot trends and consumer insights? Do you attend any annual conferences/summits/etc.?
We use a lot of different strategies at Mark's to spot trends and consumer insights. Attending conferences, reading subscriptions, and participating in the creative think-tanks have all been effective ways for us to stay in the loop, but research is a really crucial part of the equation. We partner with Sklar Wilton and Associates Ltd., a leading strategy and research firm who's closely aligned with Mark's target market and strategies; they perform consumer indexes every quarter and that really helps us stay on the pulse of our customers.

What is the biggest challenge you face when innovating?
Our biggest challenge is to embrace change. It's tempting to stick to what you know works, but you have to look at ways you can continuously improve to be a leader in innovation. We must be willing to try new ideas and not just rely on what worked in the past; history doesn't dictate the future!

Even as we've expanded to become a leading nationwide retailer, we avoid resting on our past successes and remain true to our entrepreneurial roots by encouraging and rewarding innovative thinking.

How do you find inspiration or ideas from adjacent industries? Or do you focus only on your category?
Our purpose is to provide the apparel for our customers need for everyday life in Canada. That means we're continuously identifying what everyday life looks like for the average Canadian; how does our product help make people feel confident whether it is for work, play or just enjoying dinner with the family?. In order to accomplish that goal, we need to understand our customer's lifestyle. To understand what that means, we have to look for opportunities everywhere.

We draw on a lot of different people – both internal personnel and external agencies – to come together and provide different perspectives and search for really innovative ideas. We've been really successful at coming up with some pretty cool ideas through this kind of collaboration; weather-triggered ad campaigns, for example. We partnered with the Weather Network to implement an innovative ad campaign where customers were awarded discounts in correlation with the outside temperature. The colder it gets, the more you save. For Canadians struggling to stay warm throughout the winter months, this is a great way to appeal to what every day life in Canada is all about. Really, our weather-trigged marketing idea came about by working with a variety of people who feel free to bring any idea to the table.

Looking to the future, how is Mark's going to be a leader in innovation?
The goal for the future is reflected by our parent company, the Canadian Tire Corporation where our mission is to digitized retail. We are investing heavily in ecommerce and digital marketing and that's a really big push for us right now.