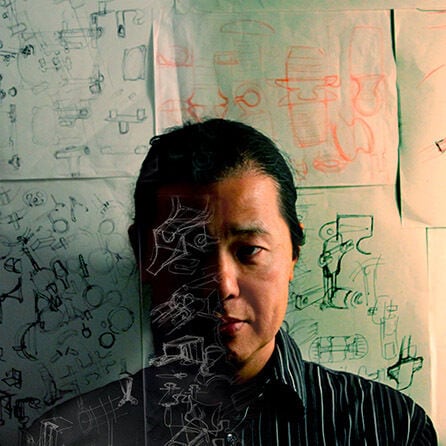 For David Huang, VP of Product Development and Design for Maui Toys, innovation is a lifestyle. The vast majority of Maui's products are invented and developed in house and it's just one of the many things David loves about his job. Products like the SkyBall and Wave Hoop have become synonymous with Maui's innovative thinking and they continue to be a leader in the outdoor activity toys category. The way David sees it, experimentation and risk is part of the game. Being the first to the market with an innovative idea just to watch the rest of the world play catch up is something he really enjoys. However, the pursuit of the next best thing never stops and David can't wait to get around that next innovative corner.

1. What makes an innovative culture? How do you create a culture of innovation?

Innovation is a very personal thing to each individual so I can only speak for myself. To me, I think one of the most significant aspects of innovation is the ability to think outside of the box. So really I don't have a formula because the driving force for each talent will vary so you will need to individualize that. My philosophy is we're all born creative. If you give a toddler a paintbrush and ask them to draw a person, you might look at it, as an adult, and say that's not really a person. By doing that you're deprogramming the child to being creative. So you're taking that question of why and how out of that child immediately and at an early age. Traditionally, Western cultures have been a hot bed of innovative talent because creative expression tends to be more tolerated and even nurtured here. That's a real big reason we're going to continue to be a world leader when it comes to innovation. The notion of questioning "why" we do things the way we do, can often open doors to new solutions. It's a double edged sword isn't it? Here we have a society of people who will drive the establishment crazy by pushing the boundaries, question the norms, sometimes defy tradition, yet they might be the same people who can come up with better solutions. In the end, regardless of how you want to tailor your culture, the most important thing is to create an atmosphere that's going to nurture free thinking.

2. Do you find inspiration or ideas from adjacent industries?

It's important that when you develop or design something you need to explore both within your industry and outside. At the end of the day the products that are out there have gone through a lot of development and there's a reason why it's done a certain way. The idea is to understand your market and say "well the reason why this is done this way is because it has to be this way to work for this segment." Another way to look at it is as a benchmark to improve on. On the other hand, whether you're inventing a new product, or improving an existing one, don't be afraid to find inspiration from outside of your field. For example, I was designing a toy and I was trying to find inspiration for it. I ended up finding that inspiration in a kitchen faucet handle. I liked the way the mechanics worked, I liked the geometry of it. At the end of the day you'd never know one inspired the other.

3. Do you have specific rituals for re-setting your team to be creative? How does your team generate new ideas?

I don't know if you'd call it a ritual but I try to start with fixed parameters. So what are the requirements and what are the non-negotiables? Then, I look at the root of the problem or what I call the "Big Picture". Designing or developing a product is basically problem solving. You're working backwards from your goal. I think if you were to try and chart it out it would be similar to what artists call working in a negative space.

4. What is the biggest challenge you face when innovating?

There are two main ones I can think of. One is as a designer and someone who works in innovation I think it's natural for us to want to change the world. Some of it may even be a bit egotistical, but we like to try and make an impact even if it's small. The changes we make these days can often be very subtle, and that's not a bad thing. Hopefully, there will be a technological revolution or major shift in habits and then we'll have that opportunity to make a huge change. The other thing is that it doesn't matter where you start from, along the way you have to work with the other processes. You have to work with sales, marketing, operations and things of that nature. That can potentially dilute your ideas. So it's a constant challenge to stay on track. It's easy to say well I don't care about any of that stuff but true innovation cannot exist in isolation.

5. In what ways are you actively investing to enhance innovation?

We are constantly reviewing our systems and making adjustments where we feel a need to. Over the years, we've cut down our Time to Production while expanding our development cycle through updated 2D and 3D Modeling as well as higher output 2D and 3D Printing. Social networking has also become a major player in our marketing and we're constantly evolving in this fast changing arena.
Sometimes, simple things can also reap huge rewards. For example, our sales team is constantly switching to different strategies to evaluate and adjust to changes with the market and customers. Our operations team works closely with us and the factories so we're always able to anticipate each development.

But to me, the most important investment in innovation is in the people. Whether it's keeping your team inspired with positive experiences, or maintaining a rewarding environment that fosters creativity, or even scouring for new talent that I can bring in whenever an opportunity should arise. Most recently, I've begun mentoring aspiring product designers which has been extremely rewarding to me as it's caused me to reflect upon what motivates myself.

6. Looking to the future, how is Maui Toys going to be a leader in innovation?

Maui toys has developed and invented nearly all our products in house. It's something we're proud of. Not all ideas are going to be a hit with the buying public but that just shows that innovation doesn't guarantee sales success. However, it's a natural part of our innovative culture here and it shows our willingness to take a risk which I'm very, very fortunate enough to be part of that kind of culture. Every once in awhile you launch something innovative that's a huge sales hit. We've had a few of those fortunately and a lot of our retailers have recognized us as a category leader. Brian Kessler, our founder, has invented many products as did his father, so Maui has innovation in it's D.N.A. We can't help but be innovative.