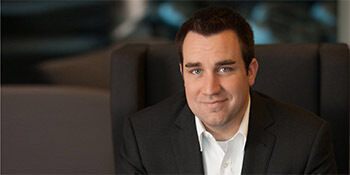 Here to teach us the myth of creativity is David Burkus, a seasoned keynote speaker, teacher and expert in leadership and the art of innovation. Burkus is the author of business book 'The Myths of Creativity: The Truth About How Innovative Companies Generate Great Ideas' that demystifies the preconceived notions that creativity is an inherent quality that only a rare few embody. Instead, Burkus focuses on how to spark innovation to get your best ideas off the ground. When Burkus isn't teaching management at the Oral Roberts University he is the host of LRLB (pronounced "Leader Lab") and spends his time working on his second novel.

Four Questions with David Burkus

1. What does innovation mean to you?

I think that innovation is creativity applied. Creativity is about ideas that are novel and useful; innovation is about ideas that are novel, useful and can be applied and scaled. There's a subtle difference between the two but it matters. You need creative thinking to generate the ideas that will scale, but you also need a solid innovation strategy to make sure that the ideas that do get experimented with are capable of being readily adopted.

2. You often explore what you refer to as "the myths of creativity" -- fittingly the title of your book. Do you think people confuse creativity and innovation and, if so, why do you think it happens so often?

It's easy to confuse the two because creativity is the beginning of innovation. But it's not enough to have creativity alone. Innovation applies to the likelihood that [an] idea will make it through from early adopters to the majority all the way to the laggards. And to get there you need to know what at each stage your target market is looking for, what constraints they operate in and how to get the idea tried. If it's truly novel, useful [and] creative -- meaning a significant relative advantage to the way things are done now, It will be eventually be accepted. The challenge is getting people to try it.

3. What advice would you give to someone who is searching for his or her next great idea or has one, but is hesitant to explore its potential?

In my book, I talk about the mousetrap myth -- which is the faulty belief that "If you build a better mousetrap, the world will beat a path to your door." This idea is a terrible maxim because if an idea is truly novel and useful, you're asking for it to do two things at once. You're asking it to improve upon the status quo, but also you'll be judging it compared to the status quo.

It turns out that we do a terrible job reconciling those two things in our heads. We judge ideas based on our past experience, but if an idea is truly innovative then we won't have a past experience on which to judge them. Thus, we rejected it. History is filled with people and companies who had a great idea, judged it too soon and ended up passing on it. Then someone else comes along with the same idea and it turns out to be an innovation.

If you're searching for your next great idea, perhaps you've already had it but rejected it. Go back and ask why. Did you experiment with it? Did you prototype it? If you rejected it without finding a way to test it [then] you may have dismissed it too soon.

4. Where do you think the future of innovation is heading?

I'm really interested in the trend towards the democratization of innovation. I see more and more companies are allowing everyone inside the organization to come up with great ideas and pitch them to even the highest levels of the organization. Some companies have fluid organizational structures that move around as people come up with new ideas for projects or products. Others will use things like an idea stock market where any employee can submit an idea and any other employee can "invest" in that idea if it has merit.

And then there companies that are partnering with individuals, individuals outside their firm and even other companies in order to find their next great idea. I think this is great, because I think it's wrong to assume that any company has all of the best people in the industry entirely inside of it. Further, I think that the greatest ideas are combinations in pre-existing ideas and the more open people and companies are to a wide variety ideas, the more likely they are to find the right combination.
References: davidburkus