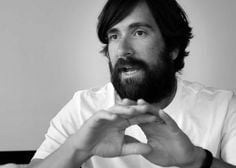 Dan Germain has been working with Innocent Drinks since its birth in 1999. Being the creative genius he is, Dan has been able help build Innocent Drinks as a brand starting from scratch to the success it is today. Being the Group Head of Brand & Creative at Innocent Drinks has proven that Dan has what it takes to build an Internationally renowned brand that he can respectfully call one of his own.

1. What makes an innovative culture? How do you create a culture of innovation?

It was a big help that we started innocent as a group of entrepreneurial friends. We were constantly told that we would never make it in the big wide world. People would tell us that "You don't have enough money to start", "These products won't sell", and "Your margins aren't big enough." Sometimes those people were right, but more often than not we managed to prove them wrong. And I think that spirit has stayed with us.
By the same token, we try to keep hiring smarter, hungrier people, who will in turn challenge us to keep diving deeper and trying harder.

2. Do you have and specific rituals for re-setting your team to be creative? How does your team generate new ideas?

We get the whole company together twice a year for our annual summer Nature Weekend and a Christmas celebration. It's a simple thing, but it allows the whole business (all 400 people from all across Europe) to reconnect with our main mission. You need to do this, otherwise people start to question "why are we here in the first place?" if you don't take time to step back once in a while to reset. And it's a great time to get people's thoughts on our biggest challenges.
More particularly, we gather our creatives and writers a few times a year, to share work, to have new ideas and to bond. The best ideas usually get shared when we're doing something non-innocent and interesting, like attending a design festival or getting some coaching from someone outside innocent.

3. How do you identify trends? What resources does your team use to spot trends and consumer insights?

Everyone in the company is expected to be on the lookout for new ideas. Whether it be new packaging, new products, a new system, or new efficiency. We also research trends from all over the world rather than just looking in our own space. We've sent teams to places like Istanbul and LA in the last year, to find out what's going on outside our comfort zone. Those teams are expected to immerse themselves in local life when they get there, eating, drinking, socializing and exercising with the locals.

4. What is the biggest challenge you face when innovating?

It can sometimes take a while to get a new idea into market. I think we're pretty quick compared to our peers, but because of our entrepreneurial culture, we always want to do things in half the time.

5. Looking into the future, how is Innocent Drinks going to be a leader in innovation?
We're going to broaden our range, broaden the needs that our drinks fulfill, and make sure that we stay true to our promise of always tasting amazing. I think if we launch a product or two each year that takes us outside our comfort zone, we'll be staying true to our values. We're also going to improve at serving communities in some of our newer markets – next on the list is Finland...
References: linkedin and innocentdrinks