Rewarding a Creative Work Environment
Paul Regan, Director of Media Innovation at Scotiabank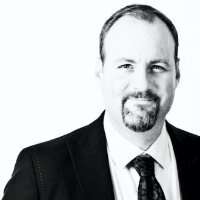 Before becoming the media and online strategy guru for Scotiabank, Paul Regan spent time at various organizations, including The Globe and Mail and Fidelity Investments, driving its digital mindset. With more than 15 years of experience, Paul is the go-to guy when it comes to executing digital, media and marketing strategies. Recently, Paul shared with us his thoughts on ideation, trend spotting and the importance of a creative work environment.
3 Questions with Paul Regan
1. How do you motivate your team to come up with good ideas?
I think you have to separate this thought a bit because moments of ideas are not events, they're a process. Personally, I don't like big idea meetings. I feel like it's forcing something that may not be there. It's kind of like asking a writer or painter to magically produce something wonderful. To motivate, you have to create an environment that has a sense of playfulness. In a daily setting, it's about coming to life in a meeting when you hear a great word or great idea. I'm immediately on top of it when it happens even if it means stopping the meeting. For me it's about contextual creativity, it's about seasoning the rest of the group. You really have to separate moments of play from preparation and operation. My own personal motivation is just sharing on the spot in the moment, in the context of creativity.
2. How significant is the topic of trend spotting to your business?
It's something that's of average importance but it really depends on the trends. I'd say it's really critical to be aware. It's like the saying, "A fish doesn't know it's in water until it hits the shore." If you don't thoroughly know the environment you're in, you're blind. However, there's a flip side to that. Being immersed too deeply in trends and the environment could lead one to lose perspective.
3. How do you create a culture of innovation?
I like to do three things. The first is to reward on the spot. The second is to always keep things fresh - the idea of having space in a situation to think. Innovation and creativity stops without mental space. Some people are too close to their ideas and become a "mental claustrophobe." The big challenge with wild ideas is that ego can't play a role. Big ideas can be taken the wrong way. People have to break from their comfort zones. There's a saying that goes, "In a beginners mind, many possibilities exist. In an experts mind, there are few possibilities." So the "beginners mind" is about keeping things fresh. Finally, you have to stop the "Gollums" because you can't be too precious about ideas. Ideas are never your own. They're free; you just get to keep the brain that made it. A great idea doesn't belong to anybody. It's not about clinging to the idea and it's not competition. You have to fearlessly embrace the idea of impermanence.