Enhancing Luxury Through Innovation (INTERVIEW)
Clayton Ruebensaal, VP Marketing at Ritz-Carlton
Related Trend Reports
Architecture
,
Art & Design
,
Business
,
Food
,
Health
,
Hip Hotels
,
Home
,
Life
,
Lifestyle
,
Luxury
,
Modern
,
Social Business
,
Travel
,
Unique
,
World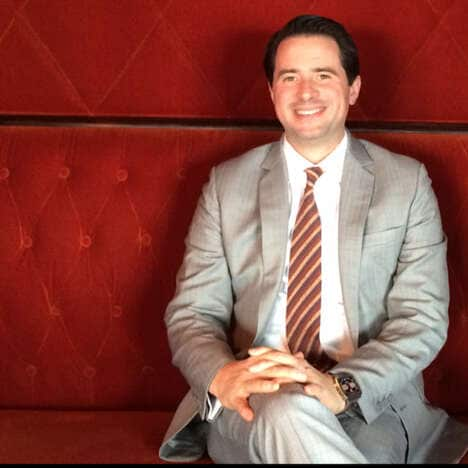 According to Clayton Ruebensaal, the Vice President of Global Marketing at The Ritz-Carlton Hotel Company, when it comes to innovation, hotels are ripe with opportunity. Right after the world had undergone a period of understanding how hard they could work during the and how resourceful they could be during the recession, spirits were buoyed and there was great optimism geared towards innovation at The Ritz-Carlton, a striking opposition to the previous years when, as Clayton phrases it, it didn't make sense to go around "talking about the color of the drapes when the house is on fire." But once the flames were out and it was time to reinvest in the luxury positioning of The Ritz-Carlton, it was an exciting time to find new ways to bring the brand to life for global luxury travelers. By working on the spreading of a new positioning of innovation worldwide, Clayton and his team were able to give people an understanding what was rare and special about the Ritz-Carlton brand.

Three questions with Clayton Ruebensaal:

1. What methods does your team use to facilitate innovation?
Initially we quarantined the subject of innovation to a space that has nothing to do with our daily work. It's a space away from spread sheets and excel docs. We started a Facebook page two years ago just for the marketing team to talk about things that make us excited. Ideas and art. Things we see in the world that we believe we can tie into our work or things that we believe our brand should strive to do.
Then we decided it needed to be a real business goal, not just a desire. After all, we want our people to do the work they want to do, not just the work they have to do, but to get results we needed innovation to be on the "to do" list. To that end, we get each person in our department to identify one thing they would be incredibly proud of trying to create each year. We put it in their business goals that they are measured against at the end of the year so it's important in a tangible way and so they stay focused on this objective throughout the year. Without doing this we believe it would be easy to put innovative and experimental ideas to the side and just end up with safe incremental ideas.
Lastly, it's about having a clear strategy to innovate against. We have some wonderful competitors in the luxury hotel spaces we needed to distill our message so it would be clear to our team what we are working against. In a word, we distilled our brand's idea as "memories." We aim to own this idea. The ladies and gentleman of The Ritz-Carlton create memories better than anyone in the world. That's what we do. For the purpose of marketing the brand we say, "let us stay with you." Said another way, we are asking for the opportunity to create memories for people. While another hotels may try to own style or location, what we do that's most rare and special is own the task of creating memories our guests will cherish for the rest of their lives. And the marketing department gets the great job of bringing that to life through content, and technology, and events, and advertising, and social media, and anything else that will work. So for us it all comes down to this one challenge: what's the most interesting way to bring memories to life?
2. What resources does your team use to spot trends and consumer insights?
We use a lot of different sources, but the biggest one is observation. We encourage our team to be out in the hotels and experience different regions of the world as well as our competitors in order to find problems that need fixing. When they identify the real world, offline problems out there, we look at our toolbox of marketing utilities to create solutions.
We stay ahead by listening to our guests macro needs and then looking at how new ideas can help solve those offline needs. I'll give you a great example. Servicing guests around our pools is always a challenge. It's a wide area and sometimes people wait longer than they would like to to place their food and beverage orders. A perfect solution is allowing them to use our app to order the minute they hit their beach chair. Our ladies and gentlemen can start right away on preparing their food and drink and this cuts out a lot of wasted time for the guest and for us. Everyone wins.
When looking any idea from our agency partners, we use one criteria for success. We ask "will this be shared?" Even if the result doesn't go viral, we want to make sure we're always staying relevant and creating ideas that create conversation. If an idea would be shared it is most likely: interesting, relevant, useful, inspirational, motivating, or all of the above.
3. What are some rituals you have for resetting your team to be creative?
Every Monday and Friday we share a story about a guest's experience at one of our hotels around the world. This happens at every hotel, every day, in every department, including at our corporate headquarters. It is always an extraordinary story that inspires us all about what's most rare and special about The Ritz-Carlton, our ability to make memories. I remember one about a guest who couldn't get the lock open on their luggage. The concierge was incredibly resourceful in helping him, trying out various methods and eventually tracking down the locksmith who created that lock to figure out how to open it. He ended up calling the TSA team at Logan airport to get their advice. When that didn't work he tracked down the man in Germany who originally designed the lock. All because a guest at our hotel in Boston couldn't get into his luggage. These kinds of stories happen all the time. There are thousands of them each year. This is where we get our inspiration, from the ritual of storytelling that happens as a normal part of doing business at The Ritz-Carlton.