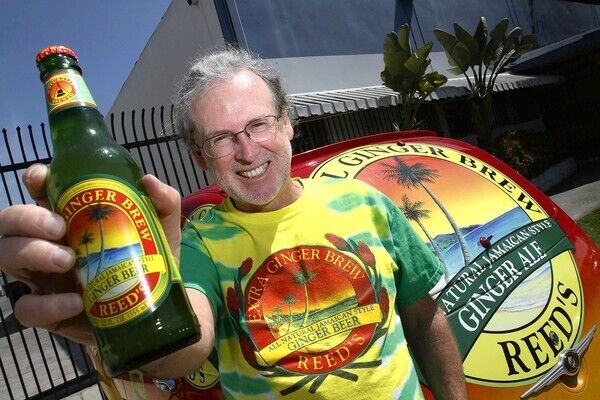 Since it was establishment in 1889, Reed's Inc. has taken off and prides itself on brewing craft sodas using natural and wholesome methods. The brand has seen such success, that in 2008, the company had an IPO and is still trading on the NYSEMKT:REED.

Based out of Los Angeles, it bolsters its signature beverage, Reed's Original Natural Brew and deals with an impressive two million pounds of ginger a year. Although this is the brand's staple, Reed's also offer other products including a root beer, sparklers, butterscotch beer, colas, ginger ice cream and ginger candies.

Chris Reed, the founder and CEO of Reed's Inc. found his passion for flavor and ingredients while traveling the world, living overseas and seeing the quality of beverages they uphold. He notes how these days, the preferred way people get their soda is through a fountain. Reed's however, has figured out how to do this, without the typical chemicals and preservatives. The company has recently hired top talent from all corners of the beverage industry to help fine-tune the foundation for a fast-growing company. Chris believed since the beginning that the health and wellness trend that is now more prevalent than ever, would be huge for the company.

Originally studying chemical engineering, Chris moved into studying traditional Chinese medicine with a fascination in herbal formulas for how to keep happy and healthy. Out of this, Chris discovered his love for ginger and wanted to take it mainstream. Each year, Reed's is getting into more and more supermarkets and has recently partnered with an Anheuser-Busch distributor that has really ramped things up for the brand. The latest with Reed's is also a partnership with Absolute Vodka. People love to mix Reed's ginger brew with vodka and have created a drink called the Moscow Mule.

4 Questions with Chris…

1. What makes an innovative culture? How do you create a culture of innovation?

First of all, we break down the barriers between our employees. While we may have brand experts, we are open to the ideas from any employee, from any corner of the organization. We weigh the idea, not the person, and they are rewarded for their innovative ideas. We make sure they are well compensated. Since we are public, we tend to look for people who exhibit ownership for their job. If you act like your role is more than just a job, then you can earn equity and stock options for Reed's Inc.

As a brand, we are less afraid to try crazy things… we have been doing this since our beginning. We created the craft soda industry and the importance of paying attention to the flavor and ingredients going into them. Our motto is: "We make the best sodas in the world, naturally." The bad economy has been good for us. We actually started doing a lot of private label, and have created knockoffs of pretty much all the known beverages out there. To be here at Reed's, you have to have a positive mental attitude… if you don't, you will be out the door.

2. What is the biggest challenge you face when innovating?

When we fall in love with an idea, we torture ourselves to get it into our model, like packaging styles for instance. Part of this is keeping a team together and to keep a creative leader. For every ginger product we have about 10 others that we have on the sideline and this causes stress for us. Having a really innovative group adds a lot of complexity. Simplifying things, and taking your top products, isolating them and making them mainstream. Like a test kitchen with discipline if you will. The challenge is when you bring on new people and you have someone like me who likes to run the show. For me, it's delegating and letting people do things their own way.

3. How do you find inspiration or ideas from adjacent industries? Or do you focus only on your category?

I am a student of everything. I get inspired by other entrepreneurs, like Elon Musk for instance. I've been constrained to where I am here at Reed's… these are the guys that inspire me. If I get management under me, I can expand my own horizons. It is neat to see these entrepreneurs screw up and then having the innovative drive to pick themselves up and try again. We are going after the biggest piece of the beverage business. If we told everyone how to do craft sodas like Elon Musk did with Tesla, the industry would be huge. Right now, there is a lot of confusion. People think they're making craft soda, but they're missing the target by a mile. Maybe I should take a page out of Musk's book!

4.Looking to the future, how is Reed's Inc. going to be a leader in innovation?

I think that the innovation and culture we have right now will help us lead. Imagine a soda all-natural, no extra calories, natural sweeteners, and having it without packaging dispensed from a machine where people can bring their own jugs to fill and reuse. I have the future of sodas in my hands right now. It is incredibly exciting! We are about to change the way people look at soda, and the future is here at Reed's. We have an obligation to disrupt the industry!
References: reedsinc