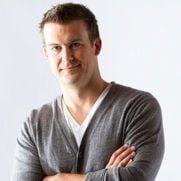 Clek car seats don't look like your typical baby seats. They're comfortable, functional and carry many of the same safety features found in your car; but they also look awesome. Unlike anything else you'll find in the child seat market. For Chris Lumley, CEO of Clek, it's not just about making a car seat that keeps your kids safe, but also making sure they look just as good as the adult seats. Clek is modern style is a part of its advanced safety features. It's a melting pot of innovation that has their consumers singing their praises.

6 Questions with Chris

1. What makes an innovative culture? How do you create a culture of innovation?

I'd like to break those up into two distinct facets. You have culture on one side and innovation on the other. Culture is something you build over time but it starts and ends with people. In our case, we had an opportunity to create a culture, understanding that Clek would ultimately be an extension of us. So it was important to hire the people that would fit that environment. If you don't hire the right people, you'll never develop a sustainable culture. At least not the one that the one you were looking to create. It can cause problems when moving forward. On the contrary, if you're all pushing in the same direction, you'll move the needle every time.

Secondly, the way I define innovation revolves around having the mindset of continuous improvement through both culture (the desire to continuously improve) and through process (the manner in which innovation is implemented). Every team member here owns a stake in the business, which drives an entrepreneurial culture. We then implement processes based on best practices taken from other industries, and implement those continuous improvement projects. If you don't have a process to execute ideas they don't materialize.

So in the end, hiring the right people to drive a continuous improvement culture and establishing processes to implement continuous improvement ideas goes a long way to creating a culture of innovation.

2. Do you have specific rituals for re-setting your team to be creative? How does your team generate new ideas?

We hold regular team activities and have a causal dress code. You can come to work in flop flops if you so choose. But these things just add to the idea of a comfortable environment, so people feel like Clek is an extension of them. We don't look at creativity as needing a reset button. Rather, it's the entrepreneurial culture that allows people to continually evaluate what they are doing to be more effective and efficient. This culture of continuous improvement is what keeps the juices flowing. If someone is burnt out and needs a day off or to take care of a personal matter, they can do that. But, when it's time to work, you got to bring it. So, needing to reset is not something we consider.

3. How do you identify trends?

When we first started Clek I would say it was more instinct from a small few with a keen eye for design. We were also parents. We used child seats on a daily basis and knew what was missing from the child seat market and had been successful in adjacent markets. We have partners who touch different industries that we use to look at new ideas with a fresh set of eyes, and existing assets for improvements. So really it's a combination of our experiences and partnerships, and applying those ideas to our product moving forward. It's also about listening to the customer. Social media has also helped this process because you can spot trends and get immediate feedback. In the end, it's about having good people, great partners and keeping an ear to the ground.

4. What is the biggest challenge you face when innovating?

Resources are a big one. Although, being a relatively smaller company allows you to be nimble, it also means you have to pick the winners. Be it the people, time, resources etc. There's not much room for a lot of trial and error. We have a laundry list of great ideas but it's about looking at the ones with the greatest opportunity for impact.

5. Do you find inspiration or ideas from adjacent industries?

Yes. The automotive industry is definitely a big one, sometimes even more than the juvenile industry. The majority of us have a background in the automotive industry, and this approach really allows us to differentiate our product from the field. At the end of the day, we're really developing a vehicle seat, but sized for a child. For example, our crumple-zone technology (REACT and EACT systems) works along the same philosophy as the crumple zone in your car. So then, it becomes really about taking those best practices and applying them to our products.

However, we don't limit ourselves to consumer goods. Every time we see a product we like, it could be a cushion on a bike seat for example, we'll say to ourselves 'can we incorporate this?' So we're always on the lookout for every day products or processes that we can adapt to make a Clek product better. Everything from using stain resistant Crypton fabrics that you can clean on the spot to being the only company that recycles our car seats. Those we're all birthed from keeping an eye open to adjacent industries.

6. Looking to the future, how is Clek going to be a leader in innovation?

I think it goes back to understanding what were all about; the ride. We're delivering a customer experience and we look at innovation as continuously improving that experience. In the end everything is about that customer experience. So by focusing on them we'll be able to continue to innovate.
References: clekinc and ca.linkedin