Relating to Local Innovations
Tom Barbitta, Sr. VP of Marketing and Sales, Carolina Beverage Corp.
Related Trend Reports
Art & Design
,
Bizarre
,
Branding
,
Credit Crunch
,
Design
,
Drinking
,
Food
,
Health
,
Inventions
,
Lifestyle
,
Luxury
,
Marketing
,
New Ventures
,
Pop Culture
,
Social Good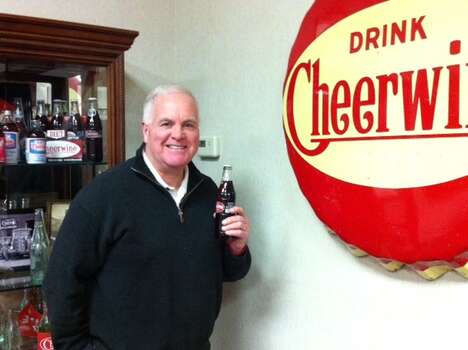 At any given board meeting at the Carolina Beverage Corporation, Tom Barbitta, Senior Vice President of Marketing and Sales, says there are two things that distinguishes it from the larger beverage conglomerates of the world.
"You'd see an uncle, aunts, a cousin, a brother, a couple siblings," Barbitta describes of the composition of a typical board meeting of the Ritchie family-owned 97-year-old beverage company based in Salisbury, N.C., "and no one around that table is saying how do we make more money." Instead, the family discusses how to bring a smile to consumers' faces, and how, in the midst of a fiercely competitive and entrenched soft drink category, to "set its drinks free."
A leading brand in the Carolina Beverage Corporation's portfolio is Cheerwine, a non-alcoholic, carbonated and cherry-flavoured drink that has, since being created in 1917,
established a strong cult following
that, while competing in a land of giants, maintains a sense of place steeped in its long-standing family heritage and loyalty cultivated out of the Carolinas.
As
the longest-running family-owned soft drink company
operating in the United States, Cheerwine, according to Barbitta, embodies the emotional and sentimental connections that are created when a drink has a face and a familial identity behind it. Describing Cheerwine as "the southern handshake," Barbitta, who worked at Miller, Libton, Nabisco and Oberto Sausage Company before joining Carolina Beverage Corp in 2005, says that in the wake of the "emotional abdication" displayed by some of the nation's big brands, it is labels like Cheerwine that emerge while other soft drinks vie for already strained and saturated consumer attention.
Four questions with Tom.

1. How do you perceive the current soft drink category that you operate in?
Right now, the soft drink category in the United States is sick, and it's been ill for at least a decade. The category's been contracting, and some of that is around issues of health and wellness, obesity, price/value, competitive issues and categorical issues (with other beverages available now that weren't around 10 years ago).
I also think that there's been an abdication of emotional currency of what big brands once stood for among consumers in America. I think the emotional connections have been mitigated and replaced by some of the things I mentioned. I think there's been an abdication of the role and responsibility of these amazing brands – and they are amazing brands that we're talking about – to build emotional value with consumers.
In the last 20 years or so, it's all become either very tactical or very temporary, and I think there's been an erosion of the emotional value and equity that these big brands once had. On top of that, you overlay some of the barriers and hurdles that have emerged, and when the dust clears, you see brands like Cheerwine standing there – a brand that still stands for something and still resonates with consumers. We're not totally insulated from some of the categorical issues, but from the research that we've done, the brand doesn't seem to be encumbered by the same kind of issues; we still have the emotional connections that consumers look for in a soft drink.
2. What would you say sets Cheerwine apart from the other brands?
The mission of this brand is to make people smile, and everyone's focused on the liberation of the brand, not the earnings of the brand. It's a beautiful model because if we can set it free and make our ambition contagious, it will happen. This is one of the only categories in consumer-packaged goods that I know of where the biggest and best brands are the cheapest – it's like nothing I've ever seen. Typically, the premium brand, the brand with the most equity in a given category, warrants a premium positioning at a premium price. Here, the best brands are often the cheapest on any given week in a store so that leads to shoppers now looking for what's on deal this week … and you have this vicious cycle. It's unfortunate for the category, but very fortunate for Cheerwine.
3. Cheerwine began by cultivating a strong, emotional local following first. How do you attain the balance between maintaining your heritage and thinking big?
I don't necessarily know if thinking local needs to be thought of in terms of the tight geographic location, meaning that just because we're based in the Carolinas, we can only be local in the Carolinas. I think local for some consumers may also represent how they connect with the brand based on what the brand stands for. I just came back from the Pacific Northwest where we're launching the brand and, based on the response to the brand being introduced and the anecdotal feedback we're getting, a lot of people think of Cheerwine as local because it is the little guy and there is a family behind it.
4. What makes an innovative culture at a family-owned company like Carolina Beverage Corp?
I think creating a process of risk taking is important for us as a small company where we're trying to compete effectively every day, so it's important to have a culture of giving people the freedom to fail. If you take risks and win, you'll be happy and if you lose, you'll be wise.
I'm trying, and I know the leadership group is trying, to foster an environment of just that. We think we're wise enough to put controls in place to minimize big risk, and going off and spending time and money unwisely, but at the same time, I think a little company like this should be nimble, quick and be able to do things much more assertively.