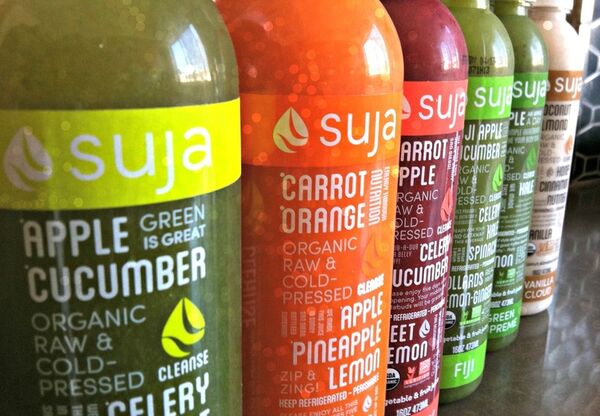 Founded in 2012, Suja Juice is considered to be the largest independent cold pressed Juice Company in the world. Based out of San Diego, CA, Suja Juice has seen unbelievable success since its establishment and is showing no signs of slowing down. Forbes also ranked Suja Juice at #2 for America's most promising companies for 2015. Suja Juice amassed almost $45 million in revenue in 2014, just two years after its birth. The company prides itself on being environmentally aware while also producing its juices with 100% organic, non-GMO fruits and vegetables. Bryan Riblett, the Chief Innovation Officer and VP of Commercialization, has been with Suja Juice since its beginnings. Bryan has had a passion for juicing since being exposed at a young age. Bryan's role involves overseeing the production and making of juice from a day-to-day basis. He also is the one who comes up with new flavors and the different types of juices that the company offers.

4 questions with Bryan…

1. What makes an innovative culture? How do you create a culture of innovation?

An innovative culture is the collective progression of necessity. If you can identify a need for something or even improve upon an existing process, then this is innovation. Everyone is capable, you just need to give them a goal and the freedom to approach the task. There is no limit to what people can accomplish if they feel comfortable. To create an innovative culture, you need to be passionate about the project. You must harness people's natural tendencies towards individualism. Just because something has been done one way does not necessarily mean it is the most effective. If you teach people this concept, it will give them the freedom to act in this innovative way. It is essential for a culture of innovation to create an environment where people feel comfortable.

2. What is the biggest challenge you face when innovating?

From a juice standpoint, one difficulty is maintaining the experience of enjoying a piece of fruit or a vegetable when it has been transformed into a liquid in a bottle. You can put a bunch of produce into a bottle but without the right balance in flavors you might not be able to taste what is actually in there. Another challenge is developing a concept into a physical product. We work with fresh produce so there is always the variability of seasonality.

3. How do you find inspiration or ideas from adjacent industries? Or do you focus only on your category?

Oh yes! We definitely get ideas from different industries, and from the food industry in particular. We are looking at more or less the different food cultures around the world. We can really draw ingredients from all different places around the world and explore these different tastes. If you just focus on juice, then you really just start to get into a vicious cycle, and everyone ends up creating the same thing over and over again. When you branch out, you can explore many new and different flavor profiles the world has to offer.

4. Looking to the future, how is Suja Juice going to be a leader in innovation?

In the future I think it will be important to explore the opportunities of hydration; we know cold pressed juice is an excellent way to hydrate but what are the other possibilities? How do we improve on the health and wellness perspective and the forethought that people focus on? One area we are looking to expand is the concept of juice being a beverage with a function. Not only can you enjoy something that tastes great, but allow it to serve as a function of health in your diet.