Articulating Insights that Inspire
Ounal Bailey, Dir. of Strategic Consumer Innovation, Britvic
Related Trend Reports
Bizarre
,
Branding
,
Drinking
,
Fashion
,
Food
,
Health
,
Inventions
,
Lifestyle
,
Marketing
,
Print
,
Unique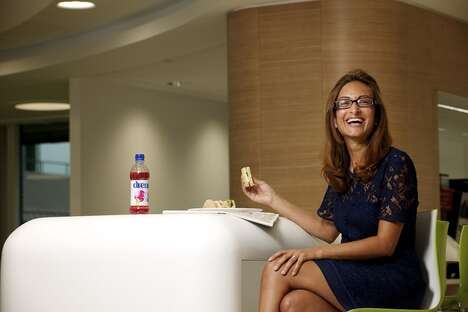 Ounal Bailey of Britvic, a UK-based beverage company that exports to over 50 countries, is continually fascinated by the similarities across different consumer markets despite the wide-ranging reach of Britvic's products.
While stretches of land and sea separate the United Kingdom geographically from other markets, Bailey, the Director of Strategic Consumer Innovation at Britvic, says the lifestyle traits exhibited, for example, by children in the United States and India, in contrast to the one she calls home, are identifiably similar. One key difference she cites is the arrangement implemented around these children's lives – children outside of the UK in places like the US and India have more "structured" lifestyles, facing increased pressure from an earlier age because of expectations around their performance in society. This meant that they were likely to be leading busy daily schedules, and as a result, being transient and on-the-go more frequently than their UK counterparts.
In light of such differences, the pipeline to develop products and packages tailored to these distinctions, and communicated in a way that addresses those various needs, are essential to Britvic's success, Bailey says, who opines that it may be human nature to focus on differences in spite of our many similarities.
Building off of its strategic partnership with PepsiCo to produce and distribute various products in its portfolio, Bailey says Britvic – which currently brings in 70 per cent of its total revenue, most recently reported at 670.7 million pounds (USD$1.13 billion), from the UK – hopes to expand into wider international markets from its predominantly Eurocentric focus to a company with far-reaching global ambitions.
Six questions with Ounal

1. How do you and your team generate new ideas, both from a strategic and operational standpoint?

My team's role is specifically to create transformational global innovation for the business. Our strategy is to drive towards global leadership in Kids, Family and Adult still soft drinks, and my team is therefore focused on developing a deep understanding of these consumers globally. We focus on uncovering the poorly met and unmet needs of these consumer groups, identifying common themes across markets and using these as a springboard for ideation. Obviously, this can result in both renovation ideas and innovation ideas being generated, and we pass the former across to our brand colleagues in local business units, while we focus on the development of the innovation opportunities on their behalf.
2. Does the consumer mindset in existing markets differ much from the consumer mindset in new markets? If so, how?
I am always surprised by actually how similar some consumer groups are as we explore new markets. We have done a great deal of work with kids globally, which I find particularly fascinating. One of the key differences that we discovered as we moved outside of the UK was how structured children's lives were in the USA and India, for example, versus the UK. The expectations of performance within society were very different in these markets, resulting in increased pressure on children from an earlier age, and very busy daily schedules. Understanding this provides a fascinating backdrop for understanding how we can innovate to provide a useful solution for kids (and their parents!).
3. How much does consumer insight impact innovation at Britvic?
Any great sustainable innovation, in my view, is founded on very strong consumer insight. Without this foundation, innovations can be little more than a fad. So at Britvic, establishing strong consumer insight is key to our way of working. We have some trusted agency partners that we work alongside globally, to help us uncover these precious insights.
I believe that uncovering insights can be pretty straightforward if you're connected with the consumer and you're really delving deep and looking for them. You tend to know the space and the broad areas, but articulating those insights into a succinct and motivating sentence, and using them as the foundation for effective idea generation is the tough part.
Getting the insight crystal clear and articulating it in a way which inspires creative thinking is where we spend a lot of time and a lot of heartache, with a lot back and forth on every word. I don't think it's 100% difficult to find insightful territory, but it's difficult to craft a really compelling insight.
4. How does Britvic's approach to innovation differ from that of other companies?
I do think that there's a need for focus and some rigour around innovation. I don't believe that for an organization our size, having a really wide funnel all the way through to launch is efficient. We don't have the resources to be able to do that.
We are open at the front end [of the funnel] and explore a variety of ideas, but we make choices quite early in the process about which of those ideas have most potential. We do that with a lot of thought and a lot of effort, with the right amount of consumer input and research – also some gut instinct; let's not forget that that's got a place.
The one thing in terms of the funnel that I'm pretty focused about, is how we optimize those ideas and get them to market. Obviously there are some things that make it right through the funnel. But our goal is that we want to have a better ratio than other organizations in terms of the number of things that will successfully make it through. The average for large FMCG organizations is a seven-to-one ratio – seven ideas go in and one comes out. We need to aim to have a higher success rate.
5. What is the biggest challenge you face when innovating?
Managing the pressure for speed to market with the goal of adding true value to the consumer, customer and our business. The quick wins do not always deliver against all three. The challenge is having the patience to bring the optimal solution to market, without missing the window of opportunity.
6. In what ways are you actively investing to enhance innovation, or is the process something you're satisfied with?
I am never 100% satisfied. I believe innovation is a process that requires you to always question the status quo, and to find new and better ways of finding a solution. We should always be seeking out new opportunities to understand consumers, develop new technologies, and improve our processes to enable speed to market.