Injecting Luxury as a Method of Innovation
Brian Levin, Co-Founder, Perky Jerky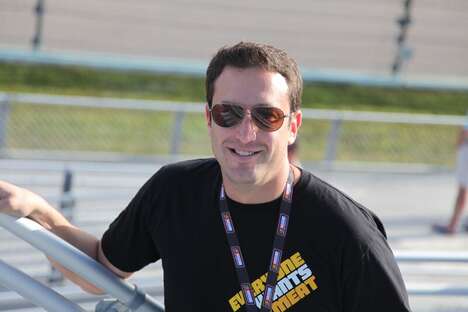 Brian Levin believes the best things in life happen by accident.
It was the stuff of pure serendipitous chance that led to the creation of Perky Jerky when, on one fateful skiing trip with fellow co-founder Matt Keiser, a can of Red Bull had leaked in their bag and peppered itself over a pack of pre-opened beef jerky.
What Levin says was an accidentally-created product – which, according to him, initially tasted horrible – sparked his imagination that has today transpired to the low calorie, low-in-fat and guarana-infused jerky designed to provide a boost of energy while acting as a healthier alternative to the indulgent snacks that line convenience store aisles.
In an attempt to veer away from the "dry, convenient store shoe leather snack" commonly found in street corner outlets and gas stations, Levin, who founded the mobile application companies Mobliss, which developed the voting system for American Idol, wanted to offer consumers a functional product different offered by the likes of Jack Link's, ConAgra and Jerky Snack Brands. In comparing Perky Jerky – a lean, all natural and more tender jerky, currently sold in turkey and beef – to that of Grey Goose vodka and Jagermeister, which he helped sell for Sidney Frank Importing Co. in his first job out of college before it was sold off to Bacardi for $2 billion, Levin similarly wants Perky Jerky to aim for the high-end of the category and instigate innovation where it has traditionally lacked in the past.
The resurgence of jerky has been illustrated by its rising growth in the last few years. In 2013, jerky sales rose by 46 per cent from 2009, to $1.24 billion, according to data from Chicago-based market research firm IRI. The overall meat snacks category accounted for total sales of $2.31 billion.
The proliferation of healthy snacking, along with niche food trends in the market place, has encouraged the sale of Perky Jerky in broader outlets like Whole Foods, Walmart and Home Depot, demonstrating the growing demand for a more nutritious, convenient and functional form of snacking. Levin says the jerky category is ready to grow out of its reclusive role from the shelves of convenient stores and into the lives of even the healthy-minded consumer looking for a snack that is wholesome and tasty.
Four questions with Brian:
1. What are some of the factors at play that are responsible for the resurgence of jerky in people's minds?

I would say it's almost the perfect storm. On one hand, you have the double-digit yearly growth experienced by traditional jerky, which is primarily driven by convenient store sales. It's not something we would consider healthy snacking, but it's still healthier than 99 per cent of the stuff that you'd get in a convenient store. Even the bad stuff has been proliferating at such a great rate that, when you combine that with the healthy snacking revolution, you have this perfect storm.
The protein snacks and meat snacks in general have been a juggernaut for years and we still don't see any sign of that going anywhere because it's perceived as relatively healthy in comparison to [the unhealthy snack products]. At the end of the day, people have this idea of what jerky is and what they're used to, so for us the big challenge is getting people to understand that there's a whole new world of jerky out there that can be much better.
2. How do you go about communicating the perception of a healthier jerky to consumers?

What we find is that there are still people who are used to and like that dried out gooey taste and texture of traditional jerky, but that tends to be an older consumer or one that hasn't tried our product yet, so to speak. Some of the big jerky companies are now trying to focus on natural ingredients and getting rid of the bad ingredients in current products, which I don't know why everyone doesn't do already, and it's working for some folks.
For us, we're swinging for the fences. Coming from the Jagermeister, Grey Goose and American Idol brands, this is not to me just a jerky that you're going to get at the convenience store. This is a lifestyle brand. People who consume our products are passionate and they care about what they're putting into their bodies. A lot of people use it to lose weight, while other people use it to maintain performance and focus. How many products do you know that are sold at Whole Foods, Home Depot and Walmart? We're trying to be something for everyone and be ubiquitous, and our target market is every non-vegetarian consumer.
3. What have you done to try and differentiate yourself from your competitors?
That's definitely been a challenge to do especially at a small company going up against multi-million dollar behemoths in the category. We don't have the luxury of doing major television campaigns, but it stems back to what I learned at Jagermeister - it was all about on-premise promotion and getting people to sample the product. I can spend all the money in the world with great commercials, but if you don't taste the product, you won't know the value of it. So we focused more of our efforts on actual in-field marketing and in-store sampling, doing events and getting the
Jerk Man
running around and getting people to sample the product.
4. What plans do you have for the future of Perky Jerky?
We're looking at international expansion. For us, it's about creating the global lifestyle brand. In many nations, jerky isn't even consumed as a product, but there's places that we've found, like Japan and Korea, to be our first targets because they do consume tons of jerky, tend to like American luxury brands and even we feel that the brand package is saying Perky Jerky has good potential.