Innovation by Adaptation
Brett Johnston, Head of Innovation at Pilot Coffee Roasters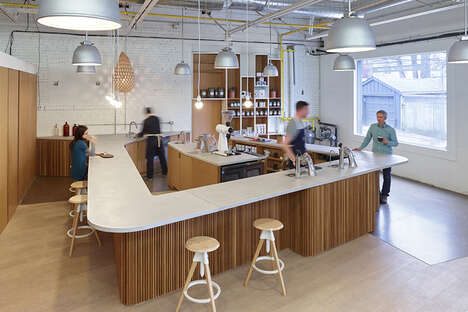 Pilot Coffee Roasters is a quality-focused roaster located in Toronto. We are guided by our core commitments to quality, relationships, innovation and sustainability. Our co-Founder and Green Bean Buyer, Andy Wilkin, travels to coffee growing origins to source the best coffees we can find and acquire them in a way that is ethical and responsible. We then develop a roast profile for each coffee and sell the roasted coffee as a single origin lot or blend. In the process, we aim to educate our customers on the importance of all steps in the supply chain. This is not only to maximize transparency in the exchange but speak to how these parts improve quality in the cup as well.
It was a natural progression for Pilot to introduce the Head of Innovation position. The company had always been committed to innovation, and to investing in the training and technology required to be leaders in the industry. As the Head of Innovation, Brett Johnston's position is responsible for creating and developing new innovative products and programs as well as providing quality control support to the Roasting Team. This could really be anything from researching trends such as cold brew extraction (Pilot was the first in Canada to introduce Nitrogen Infused Cold Brew), to studies on water quality, or new trends in extraction.
3 questions with Brett:

What makes an innovative culture? How do you create a culture of innovation at Pilot Coffee Roasters?
My experience has been that success is found when innovative thinking is able to take root in the mindset of all those in a position of influence. This past year I needed to recalibrate our primary quality control measure: how we were cupping or taste-testing our roasts each day. We had recently transitioned our roasting operations onto a new roaster and at the same time had replaced the grinder being used in our lab. With the goal of retaining or increasing quality on the new system, I was often meeting with our Production Manager as he redesigned our roast profiles, and our green bean buyer as a final sensory consultant to ensure his buying choices were well represented. Andy, co-founder and green bean buyer, then took this effort one step further and installed a back blended Reverse Osmosis water filtration system to further stabilize the environment we sample our coffees in.
This approach to building a culture of innovation breeds collaborative work in a way that is relevant across all departments and produces viable ideas the company can act on. I feel as though there is more success to be had leveraging the existing talents and knowledge you already have in house than keeping the process confined to one person.
How do you find ideas from adjacent industries? Or do you focus mostly on your category?
We are often looking at adjacent industries as sources of inspiration. The specialty coffee industry is experiencing a lot of growth at the moment, and for the past few years there has been a strong emphasis on blurring the lines between what we do and what we're seeing in the tea, or craft beer industry.
One example of industry cross over has been the rise of cascara tea and kombucha drinks being served at coffee shops. The Coffee bean or seed is found inside a cherry. Once separated, the fruit itself is referred to as Cascara. We are starting to find dedicated cascara processing facilities in Central America that use large dehydrating ovens to package and sell the cascara so that it can be used in all sorts of tea and coffee-based cocktails.
The craft beer industry has been even more influential in the past two or three years. We were fortunate to be the first roaster in Canada to serve Nitro Cold Brew on tap which is only possible through the use of draft beer equipment. This allows us to serve a cold coffee that drinks like a stout. In the beer world, I believe it was Left Hand's Milk-Stout that built a lot of interest in nitrogenated drinks, which have been steadily growing to the point where they have spilled over into the coffee industry. The various iterations of cold brew in particular have really redefined the way we're looking at making high quality coffee more accessible.
Looking to the future, how is Pilot Coffee Roasters going to be a leader in innovation?
The creation of the Head of Innovation role and the implementation of products like Nitro Cold brew on tap have really set in place a process that will keep us pushing coffee into new areas. In order to really put forward a current idea or product, it requires a lot of adaptability so I hesitate to make any predictions. Lately, we've become increasingly interested in learning about water filtration methods and water chemistry and how that influences the coffee brewing process. The innovation efforts are a creative process in a pragmatic environment that we're constantly improving and I'm very excited for what's in store for us in the coming year.