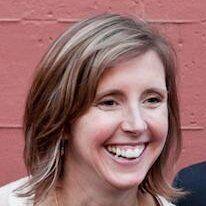 Amer Sports is a leading global retailer of sporting equipment, apparel, footwear, and accessories; with internationally recognized brands including Salomon, Wilson, Atomic, Arc'teryx, Mavic, Suunto and Precor. The organization operates in 34 countries and conducts B2B (sporting goods chains, retailers, and distributors) as well as direct-consumer sales (factory outlets and e-stores).

Anna Martens is Amer's Director of F.A.R.M. (Footwear Advanced Research and Marketing) and is responsible for envisioning the evolution of the footwear industry and its consumers, sports, and technologies. With a proven track-record in the field of research and innovation, Anna and her team implement advanced footwear solutions for the Arc'teryx, Salomon, and Wilson brands within the Amer Sports Corporation.

Q&A with Anna:

What makes an innovative culture? How do you create a culture of innovation at Amer Sports?
Successful innovation has to create a new solution to a consumer problem that doesn't yet exist in the marketplace. The big ticket to success in this field is to innovate products from a consumer mindset. All companies are talking about how to drive innovation and the first step is really to establish a dedicated team to focus on innovation and creativity. We try to create small pods of cross-disciplined people to gain a variety of viewpoints and encourage fresh ideas.

The ability to think beyond the boundaries and constraints set by the organization is needed to innovate effectively. Development schedules, milestones, and general organizational practices create structure and predictability, but they can also hamper creativity. It's important to encourage people to break free from these constraints to find creative solutions to existing problems. Finally, you have to be willing to fail to find the next successful innovation; fear of failure will encourage you not to act. So at the end of the day, the only way to innovate is to fail, fail, fail!

Do you have specific rituals for re-setting your team to be creative? How does your team generate new ideas?
I'm actually physically removed from the corporate brand headquarters, which helps foster creativity because I'm not constantly under evaluation during the early phases of ideation. That freedom to explore new ideas is crucial to fostering a culture of innovation.

To generate new ideas, we focus on face-to-face interaction with our consumers. We engage in focus groups, watch live sporting events, directly interview consumers, and essentially try to understand the individual consumer as much as possible. The type of consumer insights you can gain from these behaviours are invaluable. When it comes to innovation, the devil is in the details.

What is the biggest challenge you face when innovating?
I'd say the hardest thing is just trying to understand whether or not something is actually an innovation. It's so easy to chase the incremental sales and dollars, but to be an innovation you need to be solving an actual problem in a new way. That's often a lot harder than it seems.

Another challenge we face is that innovation often requires a lot of capital investment (e.g. new tooling , manufacturing process, suppliers etc) into an unknown area. That can be very exciting, but it also puts pressure on you to succeed and that can be counterproductive in terms of fostering the most creativity from your staff. Privately-held companies often have an advantage in innovation; they don't have a panel of investors that have to be consulted and ensured about their potential gain or loss like you find in publicly-traded organizations, the owner can simply determine to take the risk and move forward.

Looking to the future, how is Amer Sports going to be a leader in innovation?
We receive a lot of calls from small outside firms, but really for the future we are trying to make innovation our own internal capability. Everyone's company is trying to determine how to foster creativity, but it requires constant fine-tuning and repositioning to be innovative. We want to focus on having our own internal teams build connections directly with our consumers.

New technologies are very exciting for Amer Sports as well. The speed with which you can accelerate constant learning with new technologies is amazing, and that provides us with such an opportunity to build and innovate faster as we move forward.

References: linkedin and amersports