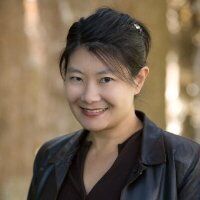 Founded in January 2000, Walmart.com is a subsidiary of Wal-Mart Stores, Inc., bringing all the products and services Wal-Mart Stores have to offer to consumers anywhere, anytime. Walmart.com maintains an insatiable focus on giving the customer what they actually want: a wide variety of goods at affordable prices.

Andria Tay is currently Content Marketing Strategy Consultant for Walmart.com and works to develop new and innovative ways to create and distribute its editorial content to support the consumer journey. Andria's experience as a marketing executive in music and entertainment, tech and mobile in addition to ecommerce has ensured a laser-sharp focus on the consumer's needs and anticipation of where they may be willing to go next.

6 Questions with Andria...

1. What makes an innovative culture? How do you create a culture of innovation at Walmart?

When I was at MTV, one of the marketing guys used to love saying "go big or go home." Although trite, we really did take that philosophy to heart, which helped us approach problems from a pie-in-the-sky way and then scale back to something which kept that kernel of inspiration but was executable. I try to foster that same way of thinking everywhere I work. I tend to be very pragmatic and want to do things that make sense in the real world, but to encourage folks to attack things with fresh eyes and dream a little bigger first before bringing it back to earth. I also try to share select nuggets of inspiration from my own research to keep wheels turning.

2. What is the biggest challenge you face when innovating?

The biggest challenge lies in trying to create tests that can be executed quickly while still achieving real, statistically significant results that can ultimately be translated into something that moves the needle at scale. Unfortunately that's often more difficult and involves more parties and effort than you'd expect, especially in a large organization, though it can happen anywhere. Often you can end up in a chicken or egg situation: can't free up the resources or commitment to execute a test to prove the business case, but can't prove the business case without some test results. Sometimes you just have to brute force it, or find the right sponsor who is convinced enough to support the idea on face value.

Another challenge is that it's hard to not throw the kitchen sink at something, but to simplify to the core of the idea, the essence of the customer behavior or experience you're trying to tap into. Lastly, if consumers don't see how they'll benefit or why they should be interested, it doesn't matter how good the idea is. Sometimes you can be too far ahead of the market -- we've all seen examples of fantastic ideas that fail due to being too early for general consumption.

3. How do you find ideas from adjacent industries? Or do you focus mostly on your category?

I'm a big believer in a sort of liberal arts approach -- there's a lot of strength in understanding what's happening across the board. There are so many parallels across all different industries and the more you can educate yourself, the easier it is to spot trends and find new ways of thinking about things, how people behave and what they want.

I read a ton -- a few hours online every day on a very broad variety of subjects. Maker Faire is very inspirational and a great place to see and get hands-on with new tech and applications. This year I was very inspired by Google Cardboard as an inexpensive and accessible way to execute on VR experiences, as well as a lot of the new robotics and AI; a few years back it was all about 3D printing.

Perhaps due to my past life in the music industry, which practically invented lifestyle marketing -- finding affinity groups who are interested in your product and marketing to them in their world -- it's more instinctive for me to see those cross-pollination opportunities or inspiration, whether it be from design, science, psychology, architecture, fashion, entertainment -- wherever.

4. How do you use consumer trends/insights in your work? What resources does your team use to spot trends and consumer insights?

Besides regular interpretation of our web analytics (surprisingly a great place to watch for higher-level trends), insights reporting, competitive analysis and personal research, we pick up on a lot of insights from our vendors and partners, all of whom are very creative and constantly testing out new stuff.

5. How do you ensure you are getting trends and insights that your competitors aren't?

In addition to just paying attention and connecting the dots yourself, the best way to get trends that no one else has is to leverage your organization's internal sales data and other metrics, which can be a really good indicator of customer behavior and shifts in the market.

But for smaller companies who don't necessarily feel like they have those proprietary resources, you can often just use basic instinct to come up with new ways to serve the market. For example, when we were developing an early single-screen version of Social TV at online broadcaster MediaZone, a lot of our work was based on the assumption that consuming entertainment, especially sports content like Wimbledon or Rugby World Cup which is what we specialized in, is an inherently social activity. It's no surprise that people go to sports bars, gather in living rooms and common areas around the world to share the experience and trash talk -- but how do we translate that to digital? It was a fantastic insight, which only a few people tried to tackle at the time, though today, nearly 10 years later, the idea of Social TV persists as more of a multi-screen experience facilitated by the likes of Twitter, YouTube and IMDB.

6. Looking to the future, how is Walmart going to be a leader in innovation?

It can't be just about the novelty factor or chasing trends -- you really need to be solving real-world use cases. That's where true innovation, impact and longevity reside.
References: walmart