Breaking Innovation Rules
Andre Teixeira, Chief R&D and Innovation Officer at Goodman Fielder
Related Trend Reports
Art & Design
,
Branding
,
Business
,
Design
,
Food
,
Health
,
Life
,
Lifestyle
,
Marketing
,
Mobile
,
Tech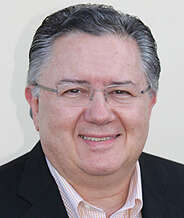 The inherently personal relationship between consumers and food is something that Chief R&D and Innovation Officer Andre Teixeira of Goodman Fielder thinks about on a consistent basis to help ensure the team is moving in unison towards a mutually beneficial direction. While Teixeira utilizes the extensive experience he has within the industry, his exceptional attention to remaining true to his passions and interests – and encouraging team members to do the same – is what sets this leader apart from the pack. It's through this attention to heritage and knowledge that Teixeira and the Goodman Fielder team are facing new challenges with tact while fostering a true culture of innovation.
Six Questions with Andre Teixeira:
1. How do you motivate your team to generate good ideas?
I like to use an objective involvement in any kind of scouting opportunities. I expect different people to be following trends and beyond in their own interests. I like to use the flanking strategy to get them out of their realm of comfort to think ahead and think about the future. Let's say a conversation about packaging: I may take them to a gallery of an artist I like and just have the social event and have the meeting about packaging at the gallery itself. Recently, we were talking about finding new ideas in artisan bread. The tradition of bread making in the continental European method. When we are looking at artisan bread, instead of looking just at bread and going to bakeries etc., we had people come in to give us conferences on food history, on biblical products like bread and wine. Thinking about the heritage helps to take a more holistic approach to coming up with our next product, innovation or beyond.
2. What makes an innovative culture? How do you create a culture of innovation?
I've been doing this for a long time. I'm not a conventional guy. My background is in philosophy and chemical engineering. I believe that the culture of innovation develops from a balancing act with creativity. A culture of innovation is a balancing act allowing ideas to be ideas for as long as they need to be. One of the key factors is that we have to allow ideas to be ideas. One of the best ways to kill an idea is to rush it into a project too fast. We don't select ideas on a basis of feasibility; they need to be intriguing.
3. Looking to the future, how will you continue to be a leader in innovation?
Hunting, looking, scouting is the name of the game. I don't like to gaze at the stars with a microscope; you need a telescope to see the big picture. Expertise does not necessarily tie directly to leadership in innovation. Expertise many times can frame your thought process to accept the existing rules and norms. In order to be a leader in innovation, you need to break some of those rules. For example, you make a cup of coffee a certain way that is dictated through rituals and historic practices. If you take that process and put it into an aluminium capsule for quick preparation that then goes on to garner 30% market share, that's an innovation.
I like to ask four fundamental questions when it comes to new ideas: does it generate new consumers to our business? Does it generate new benefits to a product? Does it create or imply a new occasion for consumption? Does it imply a new channel of distribution? If the answer to one or two of these questions is yes, then I think they're on the right track. If the answer is no to all, then it probably won't work or will go to the back burner for now. To be a leader in innovation, you have to promote development of cultural stimulation and at the same time providing some rules of engagement that allow for imagination to prevail over the dictatorship of innovation.
4. Is there a seemingly unrelated industry that you and your team are most inspired by?
I like to get inspiration by divergence rather than by convergence. The easy way of getting inspiration is looking in seemingly unrelated industries and seeing where a connection can be made. For example, if we're talking about dairy, it'll be obvious to look at what the other guys are doing in this industry, but if we look at something like cosmetics packaging, we get a better idea of how a product will look and feel in the hand, which is so important. Deliberately looking for the divergence from the obvious tends to be a very important element in coming up with ideas.
5. Where do you think the future of your industry is heading?
In food, it is a very interesting forecast. Food is something that we have an experience with from the day we're born till the day we die; there are very few things that you can make the same association with. Human beings are very discerning about what we consume because of the so-called principle of incorporation, expressed in the phrase "you are what you eat." Taste is the most important factor of the appreciation of food. Taste is the only sense that you cannot have from a distance. As the global worlds connect, things are becoming far more homogeneous and similar. Wherever you go, food is that connection that you have with the past and the connection that you have with the legacy. Our biggest challenge in the future will be how to deliver all the modern nutritional needs and the knowledge of the healthy lifestyle that good food can support.
6. Is there anything you want to say to those looking to follow in your footsteps?
I would love to see people resisting the temptation of confusing information with knowledge. Today's world is fascinating with the amount of information we have, but it's very important to remember that information is simply the connector between a body of knowledge and an audience that is targeted to receive that knowledge. The moment that information becomes knowledge then I worry; I would love to see people continuing to focus on the knowledge of things and then using the information in a sophisticated way in order to convey that knowledge to the grander scheme of things.