Fueling the Innovation Fire
Anders Tylman-Mikiewicz, GM of the Volvo Innovation Lab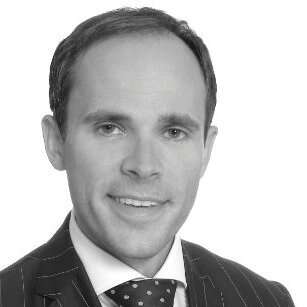 When it comes to safety on the road, Volvo is the frontrunner for designing vehicles that provide protection in a posh form. General Manager of the Volvo Innovation Lab in Southern California Anders Tylman-Mikiewicz knows that the work his team is doing has the ability to disrupt not only the brand, but the industry in big ways, which is why they take a calculated approach to staying hungry for innovation. Whether it's researching new autonomous technologies or staying up-to-date on the Volvo customer, Tylman-Mikiewicz and the team are setting their sights on making innovation a constant variable to ensure everyone is set to destroy an idea that doesn't work to move efficiently onto the next.
6 Questions with Anders Tylman-Mikiewicz
1. How do you motivate your team to generate good ideas?
From my experience, some teams are more self-motivated than others. Having said that, you always need to keep nurturing innovation and make sure that even self-motivated teams continue to venture into new areas. I see this as being one of my fundamental tasks -- to help my team remain inspired and curious and to ensure they never become complacent or satisfied with how things are.
As a leader, I believe that it's up to me to keep fueling that fire and eliminate roadblocks when they get curious about a certain topic or about disrupting parts of our industry. When it comes to motivation, openness towards the new and celebration of the small wins is so important. It's great if you have team members with individual ideas, but it's even greater if you get your team to share ideas and see which ones survive over the other. Simply put, if we have two ideas on the table and we are able to take elements from both to create a real synergistic solution, then that's what we're striving for. What I'm trying to accomplish is a culture where ideas are cross-pollinated and moving towards something that's even bigger and more powerful than previously imagined.
2. What is the biggest challenge you face when innovating?
A major difference compared to, for example, starting up your own company, is that innovation labs innovate for a larger corporate entity. I therefore believe that the biggest challenge is to find the balance between explorative innovation and remaining close to our brand's core. There are a lot of companies setting up innovation centers in the valley area. Based on my own experience, I would argue that the challenge is that you will end up with a lot of good ideas, but that deciphering whether those are good ideas that complement your business model is the tricky part, and also absolutely key to staying relevant to the organization. Another major challenge is the matter of prioritization between projects, where you sometimes have to prioritize at very early stages, thus running the risk of missing out on a great idea.
You also have to be willing to destroy -- both within your innovation team and within the bigger organization. An innovation lab can easily become a museum of old ideas and that can partly be related to stagnation within the team and partly related to the internal inertia towards change within the bigger organization. What you know is what you're comfortable with and if an idea changes that picture, many see the idea as a threat. This is especially true for disruptive ideas as their implications can simply become too large to deal with for the larger organization. To battle this, we are often trying to find metrics and run pilots in order to gauge whether ideas are really disruptive or not -- and also to create proof that helps the bigger organization to relate to the new idea.
3. What makes an innovative culture? How do you create a culture of innovation?
Getting the right people together -- People with the right type of personality and talent is critical. Once you have a good team on board, the rest is about trying to foster and nurture a culture where we accept failure and don't dwell upon it. In our innovation lab, many of the generated ideas don't make it, so it's about finding processes and ways to evaluate what is good and bad but not dwell too much upon ideas that don't make it.
If you're an entrepreneur, you develop your innovation and then you go on a road show where you pitch your idea to outside investors, which often is a brutal but also clean process. In major corporations, this works differently as you're not only looking for funding but also trying to reshape the business into something else, which in turn often takes time both in terms of decision making and execution.
Innovators within big organizations can easily get restless and instead go off to do their own thing if they get frustrated over the process taking too long. The bigger question therefore is how to get them motivated to stay their course and to keep innovating. Culturally, it's also important to agree on a norm of realistic efficiency -- good entrepreneurs and innovators don't stay long if their ideas never make it, but every idea cannot make it either, so you have to find that window where all needs are met. I have found that celebrating the small wins has been an effective way of keeping the spirit up between the ideas that are really great.
At our lab, we've generated many ideas that have changed the direction of our company. However, as mentioned before, the percentage of what actually makes it isn't really that high. I therefore believe that it's vital that innovators who work in this type of reality feel that they are really being backed up by their leadership, that there is someone that believes in them. They need that to stay motivated, to really push the boundaries -- and to come back after a cancelled project.
How do you remain hungry and not complacent? I believe it's important to dream, fantasize and talk about disruption, e.g. dreaming and imaging how things could be with a smart car or unlimited bandwidth. It's important to keep that dialogue going within your team even if you at the end of the day still have to focus in on ideas that are centered your own brand. My role as the leader is to fuel that inspiration and ensure we have a powerful and open discussion around what really is the best idea.
4. What upcoming projects are you most excited about?
We're doing some very interesting stuff with autonomous driving and the tech industry. One recent project that we launched successfully was a partnership with Google cardboard, where we become the first brand to create an immersive experience like this. It allows people of all demographics to have fun, test drive and interact with the XC90. It was a huge hit with consumers.
5. Is there a seemingly unrelated industry that you and your team are most inspired by?
Looking at other industries is one of the things I try to promote within the team and it's something we've become quite good at. For instance, if you are working on the idea of an autonomous car, you may want to relate it to other autonomous experiences such as air travel or taxi rides. Being open to what's going on in other industries is key in both understanding how you can utilize those insights in your own industry -- and also to understand how other related industries will impact your own.
6. Where do you think the future of your industry is heading?
Cars are about freedom and even if you buy a cheap car, you're paying a premium for the freedom to go wherever you want, whenever you want. Consumers associate luxury cars even more to the notion of freedom as they make driving into a true experience.
With that being said, moments when you are stuck in traffic are frustrating and with more and more people living in more metro areas here in the US and around the world, traffic is becoming even more prevalent. These facts and rapid innovation in the area of active safety technology thus clearly drives the evolution of cars towards cars where you will be able to delegate driving, cars that are autonomous.
While some competitors seem to operate under the assumption that people hate all driving, we know from consumers that that's not at all the case. We therefore see a different future compared to them -- a future where you drive when you love it and delegate driving when it's boring. We want Volvo drivers to have that choice.