Telling Consistent Stories in New Ways (INTERVIEW)
Amy Osburn, Creative Director at Fossil, Inc.
Related Trend Reports
Art & Design
,
Celebs
,
Design
,
Fashion
,
Gadgets
,
Hip Fashion
,
Jewelry
,
Luxury
,
Marketing
,
Media
,
Photography
,
World
,
Youth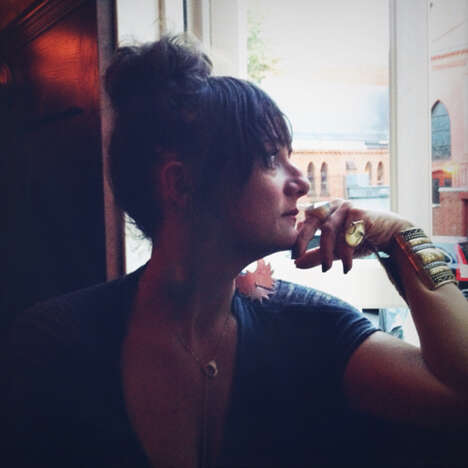 Unlike some other Creative Directors at Fossil, Inc., Amy Osburn comes from a photography background. Before she entered the Fossil headquarters in Texas, Osburn worked actively in the photojournalism industry in Los Angeles. Today, Osburn leads creative projects and teams in-house. Because Fossil has a distinct heritage, Osburn's job is to tell the brand's consistent story in new ways.
Four Questions with Amy Osburn
1. How do you motivate your team to come up with good ideas?
When kicking off a season, we generally have an "umbrella'd" direction of where the brand wants to go. We consider that umbrella, but also try to think a little off-center. When you box yourself in, your idea can turn out cliche or be something that's been done before. I like my team to look at things that may not even be relevant [to fashion] because it gets you feeling inspired and challenges you to incorporate that idea into what you're working on. It could simply be a thought-process or color palette, but I try to encourage big global thinking or off-centered.
2. Do you have specific rituals for re-setting your team to be creative?
Fossil brings in bands and speakers to foster the creative atmosphere. But on a personal level, re-setting is different for each individual. Managing in the creative industry is interesting, because you take into factor each member's way of thinking. I manage stylists, and they're at the studio a lot, and the studio is constantly busy. That's why, one day a month, they spend the day outside, solely for inspiration. They might go to museums, bookstores or go trend-spotting on their own. It gives them a breather; it doesn't sound like much, but it's very important. We also meet together as groups. Inspiration can come from a meal out together, sitting around and talking about big ideas and encouraging each other. It all depends on the person. We do group meetings to keep them off-campus or have breakfast at my place, tear sheets, talk about things we've seen or done or feel inspired by. Creative can't just be chained to desks; getting out there engaging all of your sense is so important.
3. How do you identify trends? What resources does your team use to spot trends and consumer insights?
I use resources that make the most sense to me, things that I can find relevant that I can then turn around and turn into images. Trendwatching.com, stylesight, WGSN for fashion. Some are more relevant, and it's always interesting when they are a little more progressive, further into the future. For image libraries, you have to create and build images people would want to see before they knew they wanted them, so I appreciate the ones that are five to six years out.
4. In what ways are you actively investing to enhance innovation, or are you satisfied?
The stylists' group is a fairly new team that I am leading. I'm in the process of investing time with them to find out how and where I want to go with them, how to mentor them and lead them. For myself, I constantly feel this need to stay current to understand. Whether it's the new innovations in mobile tech or the web, I stay in the loop. I think it's important to understand the balance of art and commerce.