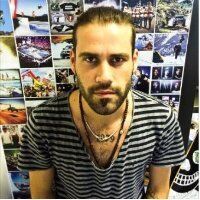 Being the beverage conglomerate it has managed to become, Monster Energy is one of the most successful brands that has hit the beverage industry with aplomb. Known for its iconic shredded "M" logo, Monster's branding can be seen on anything from action sports, motor sports and punk rock attitudes. Monster Energy prides itself for being the sponsor of many extreme sports and the athletes that take part in them. Founded in 2002, the company managed to produce a revenue of almost $2.5 billion in 2014. Allan Price has been with Monster for over seven years now. Allan was brought on by Monster back when it was first penetrating international markets, across Europe, the Middle East and Africa. Allan also explains how important backpacking the globe for five years was for himself as a person, and urges everyone he meets to try it as it was the greatest education he experienced.

3 Questions with Allan…

1. What makes an innovative culture? How do you create a culture of innovation?

I think the best way to start this is with the catalyst. There has to be fuel, a genuine hunger to make behavioral change. Set high demands that push ourselves beyond our own expectations, and those of the individuals within the team.

Being surrounded by amazing people is an extremely important aspect for innovation. Whether it's in our community or internally at work, we create a gravitational pull for people while investing in them, not simply our product. It is important to surround yourself with those who want to be a part of that growth and expansion, working with others who share the same mindset. At Monster, we're growing so fast that when hiring people, I'm not just looking for people to make incremental change, but rather contribute to making things 3000% better, making monumental change. How do we foster all of this? Again, it comes down to the people…being comfortable, feeling a sense of mutual trust. Being able to make everyone feel comfortable around each other. Take a band for instance -- the best groups are those who have known each other forever and can mesh really easily…they're happy to make mistakes around each other, they aren't afraid to fail and try new things -- innovative things. Through constant practice, we learn our own limits, but together we can push these limits, and that's where innovation can happen.

2. What is the biggest challenge you face when innovating?

Taking risks. When we take big risks, we don't do them halfheartedly…you have to invest in your ideas. For this, first we need to believe, and everyone on the team needs to have the same investment into the idea as we all do, or we end up with half-hearted results. We need this commitment, not to take a little jab, but fully plan it out and do the best we can to get it there. If you can rally those around you to follow the plan, then we have done everything we possibly can. I'd like to say at that point we reach success, but at least we took it out with the best possible chance of succeeding. From there, it depends on how the people, fans, customers etc. that you're presenting it to, accept these wild new ideas. Being innovative comes with some risk.

3. Looking to the future, how is Monster going to be a leader in innovation?

Innovation is staying in check with everything around you, but more importantly, making use of these things. I often look at software, tech and gadgets and find a way to re-purpose them for something else. It changes the use, and the outcome. We are always on the lookout… always looking to tweak and refocus what we already have. I am always listening to the community… we don't have consumers, we have fans. We like to put our fans in a position where they can tell us what their interests really are, and then we give them exactly that.
In closing, I would add that innovation doesn't happen by using a template, or arranging any pre-defined meetings about innovation. First create some trust, allow your team some freedom, and listen to their ideas without judgment.
References: linkedin and monsterenergy