Rebuilding a Design Team
Alastair Curtis, Chief Design Officer, Logitech
Related Trend Reports
Babies
,
DIY
,
Fashion
,
Food
,
Gadgets
,
Games
,
Hip Hotels
,
Jewelry
,
Lifestyle
,
Mobile
,
Pop Culture
,
Social Media
,
Tech
,
Travel
,
Youth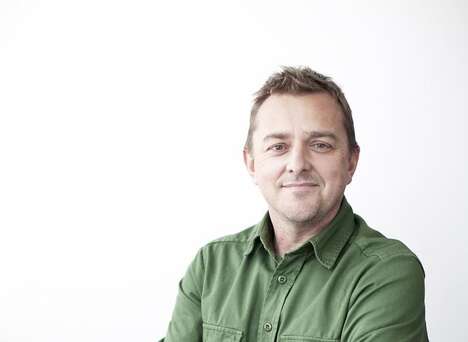 Alastair Curtis is the Chief Design Officer at Logitech and started the position as an external consultant for design and innovation.
Prior to Alastair joining the team at Logitech, design was done through an external agency. CEO Bracken Darrell has given Alastair the opportunity to build a design team from scratch. Logitech will continue to innovate while keeping their roots deep in design, creating a culture built on innovation.
8 Questions with Alastair Curtis
1. How does your team generate new ideas?
In three years time, you will more than likely ​hear a different answer than today, but we're really focusing on strong design leadership and management while thinking differently about developing the product and its experience.
It's really about the experience and the emotional connection with the consumer. We're in a much more provocative position to challenge ​Logitech, the business ​​groups and the portfolio. [We're] looking to trends​ and consumer behavior and how they influence the product.
2. Do you have specific rituals for re-setting your team to be creative?
We do a lot of brainstorming sessions and workshops. Again, in three years you might hear a more honed and evolved process. The design team is at its infancy, as we are a brand new team that's really transforming the company. At this point, we don't need a ritual to re-think and push ourselves. Every day is a new day.
For my own inspiration, I find people watching is really fascinating and it sparks creativity. I also like to cycle to recharge. When I cycle - all the pieces of the puzzle start to fall into place, and I experience those "aha" moments.
3. How do you identify trends? What resources does your team use to spot trends and consumer insights?
There are two levels. We're working closely with external agencies, helping to identify key design and fashion​ trends. ​Members ​​of our team spent ​a ​week at the Milan fashion show to bring back design trends, so we're constantly bringing new trends into the organization. We also have a consumer insights organization, looking at ​consumer and competitor​ trends. We have amazing technology trend material that's available to the company. It's about bringing these trends together to influence our everyday work.
4. How do you ensure you're getting trends/insights information that your competitors aren't getting?
From my point of view, the key is to invest as much time as possible working with and ahead of the portfolio. It's about establishing our point of view and not anyone else's point of view. We have to be brutally honest with CEO Bracken Darrell about what we're trying to achieve and formulate meaningful products and experiences.
Your point of view can be wrong, as long as there's healthy dialogue about what you're trying to do. You can move forward from early concept to a project, when everyone is on board with the experience you're trying to create. ​The final product is a complete experience. For example, with the UE BOOM, it's not just the product. It's the packaging​, the USB charger and cable, all the way through to the mobile app and the website, which all come together to tell one story that amplifies​ the experience.
5. What is the biggest challenge you face when innovating?
The biggest challenge we're facing is time. Design has not existed in Logitech before, ​and every day there is an amazing opportunity​ ​for us​​ to​ help improve the quality of design and​ ​make things better. We have to ​use design to manage and create the most impact in the right places.
We also have such a close relationship with Bracken, the CEO, and I have weekly meetings with him. He's so closely involved and there's a high level of design engagement. Bracken is a CEO who really walks the walk and talks the talk.
Design has its seat at the table with strategy and change. The team is closely integrated within all of the business groups, so we aim to make sure that every member of the team is comfortable ​being hands on with live projects as well as championing design with the business group leadership. Design is really integrated into the business, as we all communicate and operate together.
6. Has there ever been an instance where another industry has influenced an innovation at your company?
We have the standard trends like fashion, automotive, and furniture. Fashion is dialed up as a dimension, especially in the mobile space. Products are certainly becoming more and more of an expression of you. ​However, I believe the most important influence at the moment is driven by a requirement to create 'smarter' more intelligent products and experiences. ​
7. What makes an innovative culture? How do you create a culture of innovation?
I have to put things into the context of now. We have a brand new CEO with Bracken, and Logitech ​aims to become​ a design-led company. As the Chief Design Officer, I'm re-thinking and redesigning innovation for the company. We're essentially innovating the culture and the way the company thinks and operates. It's about processes and environments -- not just about design, but about everybody who is responsible and accountable for creating exceptional products and experiences. It's also about instilling ​creative confidence (at a greater level) and an unhindered level of communication.
8. Looking to the future, how is Logitech going to be a leader in innovation?
The more we can do ahead of the portfolio, the healthier the dialogue. The impossible is usually what generates the biggest breakthroughs. If you're asking yourselves "How are we going to do this?" it's the best kind of questioning. It drives that level of thinking and innovation, as you find new ways to de-risk the challenges and the unknowns.
We're building a team from scratch and everyone is on a mission together, inherently becoming a part of the new team. With the CEO as the sponsor and design being an integral part of the company now, we have the belief that we are a company in transformation, working to inspire and excite people.